Yesterday, there was tea (you weren't invited, oops), splendid people (they only tolerated my presence), and today I had pancakes and sausages for breakfast (Team Breakfast
forever
) while

ignited
also had the same breakfast while we were not hanging out which means we are even more mentally linked so why aren't we ruling the world?
Oh. It's because we're slackers, isn't it?
(No, it's because we're training to fight zombies on the mooooooon. Fuck yeah.)
FYI: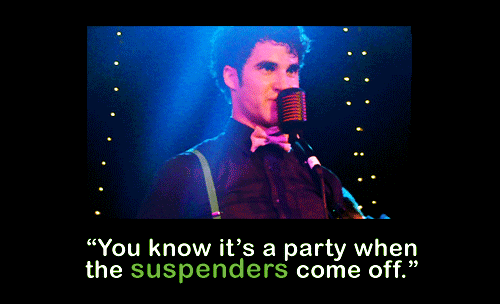 It's nice to be reminded that I have a total fucking thing for suspenders. God. Damn.
Especially
when they're hanging around the waist. Ngggh. My heart's located in my pants, right? (What is this feeling I'm feeling?)
I'm supposed to be writing other stuff but okay, like, here are a couple of drabble/sentence fics I wrote this weekend over at

kurt_blaine
's
Holiday Rush Fic FestSilent Hill Jokes? Is That Silent Hill Jokes?
For

rionaleonhart
's prompt:
Kurt/Blaine in Silent Hill.
( Radio? Hmm. What's going on with that radio? )
*
Tell Me, Where is Sir Blaine For I Much Desire to Speak to Him
Prompt by

lextempus
: Kurt/Blaine Crossover with Lord of the Rings
( They're taking the hobbits to-- )
*
But maybe you'd rather sing about acute boys
Prompt by

naderegen
:
Blaine helping Kurt out with his math/science/whatever homework.
( We're not going to sing about sexy hypotenuses anymore )